Uncovering the Crisis: Care Work in the Time of Coronavirus
Without these grassroots networks and infrastructures there is no life, no markets, no food in the house, no vaccines, masks, or social distancing.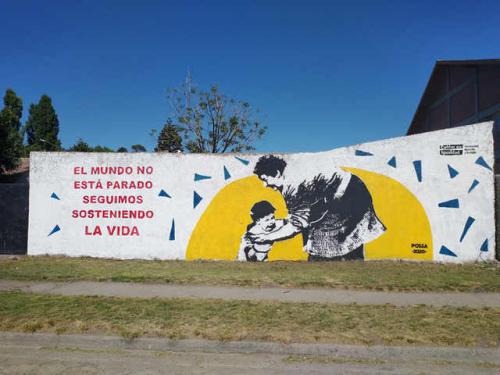 The pandemic has sharpened and transformed pre-existing inequalities, reconfiguring the processes that sustain and guarantee life. Networks of care work in working-class[1] neighbourhoods play an important role in this context, as do those who lead them, despite the scant social and economic recognition that they are awarded. Across the world, new forms of organisation are born to redefine and create processes to sustain human life.
Rooted in an understanding of the need to politicise the realities elucidated by the pandemic, Tricontinental: Institute for Social Research and the collective Mapeos Feministas ('Feminist Mapping') created Uncovering the Crisis, a podcast that explores the uneven impact of the pandemic on different bodies and spaces through a feminist lens. We set out to analyse the impact of the pandemic through the eyes of grassroots feminists at the margins of society who support and create networks, build grassroots infrastructures, and fight to make our dependence on each other and our surroundings visible. In this dossier, we systematised this work and researched the resistances that emerged from a broad range of experiences and realities. Today, these realities are faced with the deepening of exploitation, pillage, and violence as well as the collapse of the economy, health, and food security. We structured this research around three main areas: communities, houses/homes, and domestic and care work. In all of these areas, the commodification, privatisation, precarisation, and feminisation of care work manifest in different ways.
Our ideas, understanding, and drive to do this work come from a commitment to collaborative learning through listening and dialogue. This would not have been possible without all of the women fighting for the people and people's struggles who inspired us to share their experiences and realities.
Continue reading below…
Source:
https://www.thetricontinental.org/dossier-38-carework/
https://www.alainet.org/en/articulo/211299
Mujeres
Paola Ricaurte

10/03/2022

Giorgio Trucchi

03/03/2022

Diana Carolina Alfonso, Mónica Miranda

22/02/2022

Miguel Pinto Parabá

26/01/2022

Jo-Marie Burt, Paulo Estrada

12/01/2022
Pandemia
Gabriela Ramírez Mendoza

07/02/2022

Jyotsna Singh

06/02/2022

Gabriela Ramírez Mendoza

06/02/2022

Richa Chintan

10/01/2022

Isaac Enríquez Pérez

03/01/2022